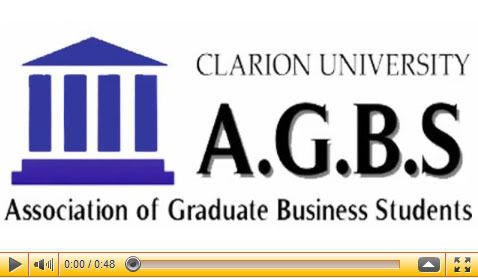 Mission:
Our mission is to provide graduate business students the opportunity to showcase their skills in business, government and other organizations while connecting with fellow students through effective learning, professional development, scholarly contributions and service appropriate to Clarion University and the surrounding communities.
About Us:
The Association of Graduate Business Students provides the opportunity to connect with fellow graduate business students, engage in professional development, gain leadership skills and become involved in public service opportunities. A.G.B.S welcomes all first & second year students to participate in the association's activities with the purpose of showcasing your leadership abilities, providing a better sense of the careers in a given field of study, support many different community outreach programs, compete in national competitions and travel to professional conferences.
News & Events:
Keep up-to-date with the latest 'news & events' by visiting our Website's information feed (seen below), viewing our
Facebook
status updates, or by subscribing to our
Twitter
page to receive text messages on your cell phone.
Contact Us:
We welcome you to
contact us
if you have any questions, comments or suggestions for how we may better serve Clarion University's Graduate Business Students.
MBA Association
Meeting Hours
W 8:15 p.m.-9 p.m.
and by announcement
Location
326 Still Hall
Phone
814-393-2605
E-mail
BusinessGrad@clarion.edu
Executive Officers
Advisor:
Dr. David Hartley


President:


Vice President:


Treasurer:


Secretary:


Director of Technology: