Mission

The focus of the Center for Sports and Recreation is the development of students through intercollegiate and recreational sports, and fitness promotion for all students. The Student Recreation Center and recreational programs, such as intramurals, are also under the supervision of the Center for Sports and Recreation.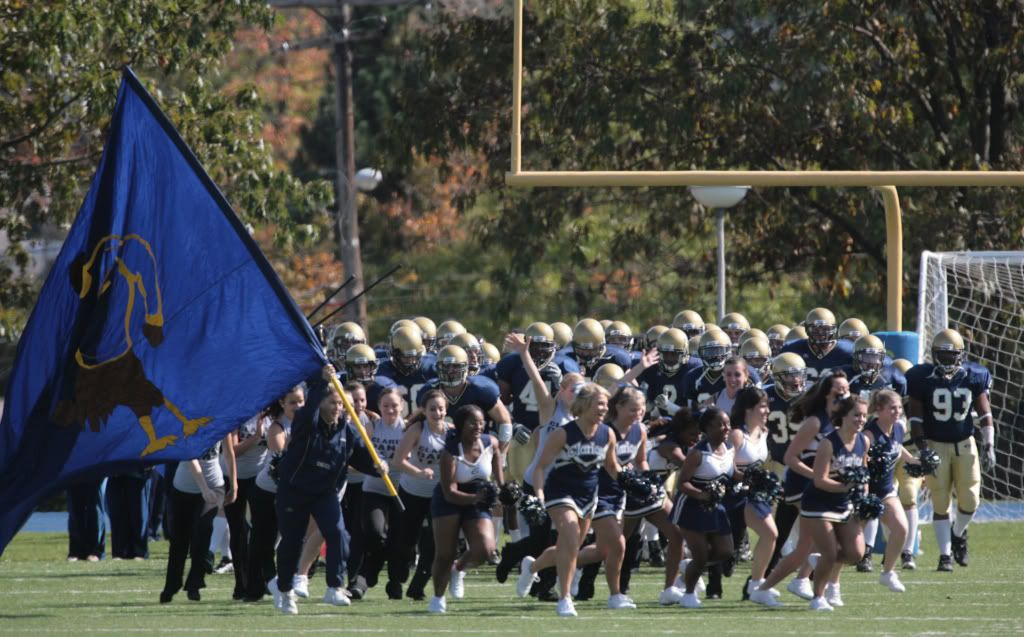 Intercollegiate Athletics
At the home of the Golden Eagles, intercollegiate athletic competition plays an important role in the lives of students. Clarion University is affiliated with the National Collegiate Athletic Association (Division II), Pennsylvania State Athletic Conference, and the Eastern Wrestling League.

The present athletics program includes six men's and nine women's varsity programs. The men's programs are baseball, basketball, football, golf, swimming and diving, and Division I wrestling. The women's programs are basketball, cross-country, golf, soccer, softball, swimming and diving, tennis, indoor and outdoor track and field, and volleyball.


Club Sport Program
The Club Sport Program is administered by the director of Intramurals, Recreation and Club Sports whose office is located in the Student Recreation Center. The designation of club sport is given to recognized student organizations (RSOs) choosing to participate in athletic competition with outside organizations in a non-varsity status. To obtain club sport status, an organization must meet stipulations set forth by the Intramural, Recreation, and Club Sport (IRCS) committee. Club sports operate on a year-to-year basis contingent upon student interest. Examples of club sport programs at Clarion include men and women's rugby, in-line hockey, men's volleyball, men's soccer, ultimate frisbee, and the Equestrian Club.
Intramural Program
Intramural and recreational programs are provided for students by student activity fees allocated by the Student Senate. Programs are planned and supervised by the Center for Sports and Recreation. Intramural competition is available for more than 50 activities, including flag football, soccer, volleyball, chess, bowling, table tennis, basketball, wrestling, badminton, billiards, swimming, softball, in-line hockey, water basketball, golf, and racquetball. The Intramural Program is located in the Student Recreation Center, and many of the intramural events are held in the facility. Ongoing fitness counseling is available, as well as instruction on the use of the strength and cardio equipment. The program also offers a fitness component intended to help students develop and maintain a healthy and physically fit body through strength training programs, aerobics, and body fat percentage screening tests.


Student Recreation Center

The Student Recreation Center is a student fee-funded facility with three multi-purpose courts that may be used for basketball, volleyball, tennis, soccer, floor hockey, badminton, rugby, etc. It also contains a four-lane running/walking track, a 32-by-25 foot climbing wall with seven belay stations, a stretching area, a cardiovascular area, and a 4,800 square foot weight room. Equipment includes a variety of cardiovascular machines, Arc Trainers, steppers, Precor ellipticals with personal viewing screens, cross trainers, treadmills, stationary bicycles, Expresso bikes, and rowing machines. The weight room combines free weights, plate-loaded stations, and variable resistance weight training machines. Group fitness and aerobics classes are offered during the academic year. A variety of equipment can be checked out for use inside or outside. Since this is a student fee supported facility, there is a charge for non-students; memberships are available. Members of the Clarion community can check out equipment for a fee. Rentals of the gym courts, climbing wall and other areas of the Student Recreation Center facility are available.
Summer Athletic Camps

Go to www.clariongoldeneagles.com and click on Camps in the menu across the top of the page.